News and updates
Promotion Work From Home Made Easy SMB Flexi Bundle
Work From Home Made Easy
SMB Flexi Bundle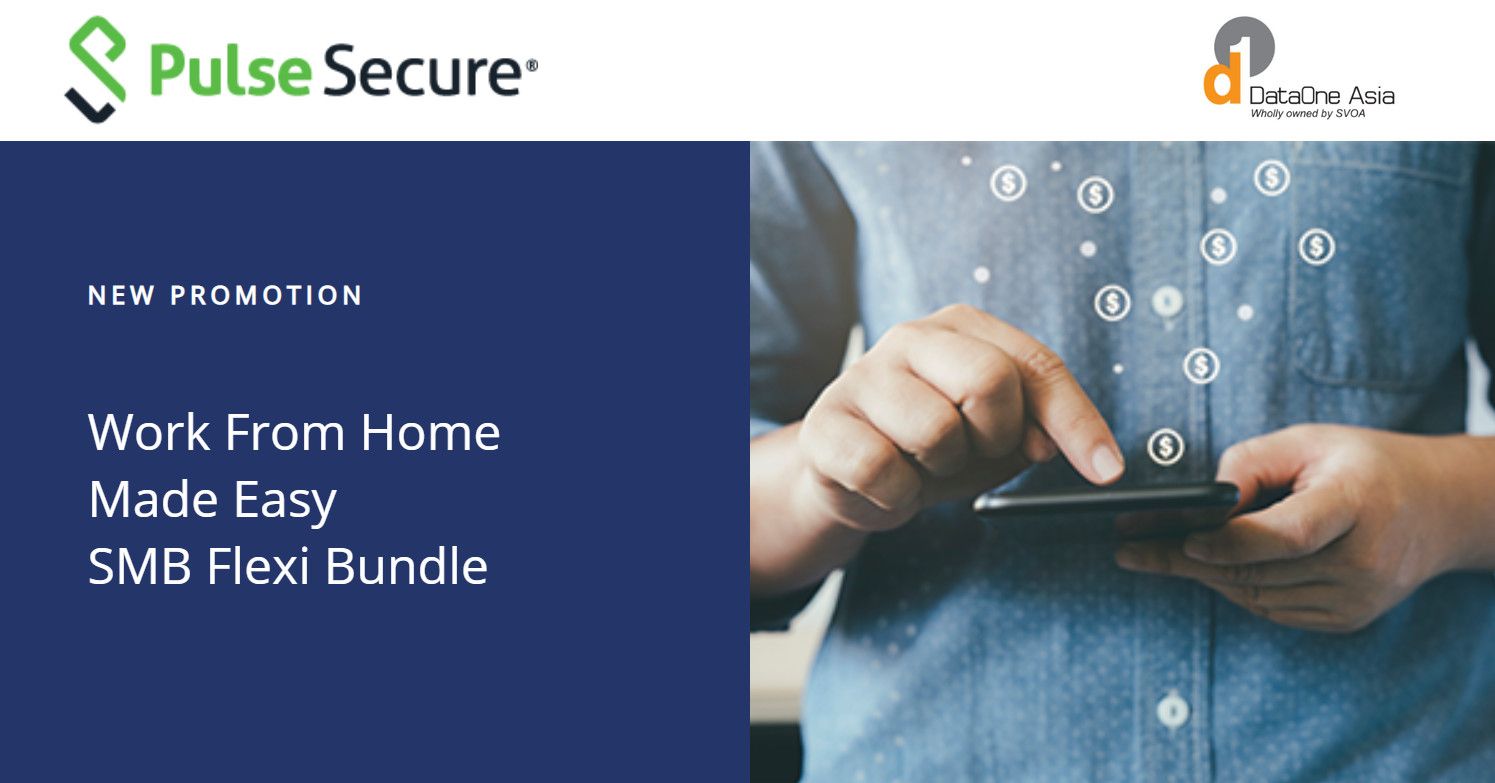 Employees working from home remotely? Help them stay productive with seamless connectivity and on-the-go access to applications and resources. This special bundle makes it ultra simple to enable secure access to the data center with award-winning features:
On-demand, Per-app VPN
Device Compliance
Single Sign-on & Multi-factor Authentication
Centralized Management
Get in touch with your nearest authorised Pulse Secure distributor for secure remote access in 3 easy steps!
To learn more about enabling business continuity during this period.
Offer ends 30 Sep 2020
Pulse Secure Cares. In a world where natural and man-made disasters occur, Pulse Secure wants to help keep your business running so you can focus on what's really important – keeping your employees, friends, and family safe.
Work From Home: Pulse Connect Secure offers the easiest and fastest means to ensure employees working from home remain productive by enabling secure remote and mobile access from any device to enterprise services and applications in the data center and cloud. Pulse vADC integrates closely with Pulse Connect Secure to optimize connections to the nearest available locations, helping businesses stay online and assure service delivery.
Pulse Connect Secure enables you to:
Deliver fast, secure, and optimized access to data center applications and cloud services, while ensuring an easy, simple and consistent native-user experience across desktops, laptops, tablets, and smartphones.
Consolidate and streamline access for quick, secure connectivity to resources with always-on and simultaneous tunneling, SSO, MFA, and endpoint compliance checks to keep data secure.
Simplify network access administration with centralized web-based console, end-user self-provisioning, clientless use, and mobile platform integration for BYOD.
Rapid activation and scale-out without requiring hardware or client; runs in virtual, Azure, AWS and Alibaba cloud environments.
Pulse vADC with software-defined traffic management enables you to:
Increase app performance for WFH productivity and the launch of new online app and services
Gain greater web and virtual app responsiveness, scale, availability, security and service delivery
Deliver seamless user experience with Optimal Gateway Selection to ensure users connect to the nearest available gateway
Quickly and flexibly deploy software-based load balancing purpose-built for virtual and cloud portability
To aid our enterprise customers and their community in these unforeseen times and to help them continue to operate their businesses effectively and safely, we are offering flexible Pulse Connect Secure and Pulse vADC licensing. Even if you are not currently a customer, we want you to have peace of mind. We are standing by to help. Please take advantage of responsive sales and support services to ensure rapid implementation.
If you are interested in inquiring a solution for your organization or want to try free Demo by clicking Try Demo button as below.