Insurance Middle Office
eBaoCloud® InsureMo®
is an open API platform of fast innovation and deep connectivity, digitally enabling all parties ranging from insurance carriers, brokers, agents, MGA, affinity channels, to insurtech startups.
InsureMO® allows traditional core systems of insurance organizsations to extend and connect to every digital and conventional
channel.
Currently, 120+ insurers and 500+ channels across 10+ countries are connected to InsureMO platform, driving the digital revolution for many life, general, health and group insurers.
Evolution of Insurance Ecosystem Connectivity
Before 2000:

Paper based interaction with low demand on flexibility and in a slow motion

From 2000:

One to many connectivity driven by insurer's bigger and bigger core systems

From 2015: Digital Era

Many to many connectivity: Middle Office for massive: Volume, Variation, Velocity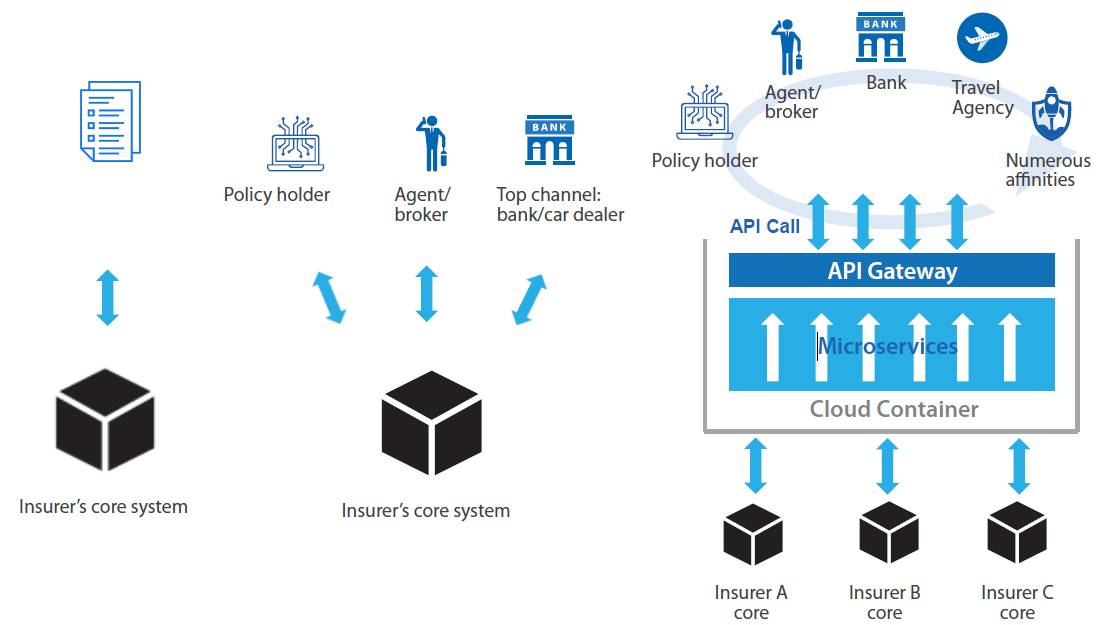 PaaS (Open API Platform):
Development and connectivity platform for fast innovations by insurance carriers, traditional channels, and FinTech/InsureTech

Key components: product engines, micro services for policy, claims, payments and so on

Primarily designed for Open API collaboration, managed via eBao Cloud Container (based on Docker and Kubernetes).

SaaS: APP or PC based Full Solutions
MobileAdvisor: A fully functioning APP for traditional life insurance agents, both tied agents of life insurers and independent agents/brokers, covering all functions or sales and services, such as premium calculation, benefit illustration, online submission, payment, and typical policy services. API from other partners are also available for more specialized functions as part of ecosystem platform.

AutoShop: A fully functioning solution for car dealerships to handle all aspects of insurance transaction and services, for both mobile phones and PC. Key functions include quotation of premium from multiple insurers, policy coverage comparison and choice, online submission, payment, renewal tracking and management, claim and repairing history, and so on.

Collaborus: A fully functioning solution, both on mobile and PC, for MGA or small insurers, especially cover holders of Lloyd's Market. Key functions include coverage selection, premium quotation, online submission, payment, and so on.

CarrierPortal: A fully functioning solution for typical insurers' Direct to Consumer sites with typical product listing, premium calculation, online submission, service submission, and so on.
How it works
Benefits
Quick Product Launch
(1-2 Weeks)

Maximize Uptime
(24x7 availability)

Easy Integration
(Open API, Core PAS agnostic)

Faster Deployment
(Around 1 hour)

Strengthen Security (MAS, OIC,IRDAI compliant)

Reduce Cost &TCO
(10x)
By submitting, I agree to the processing and international transfer of my personal data by DataOne Asia as described in the Private Policy.