Blackberry Software ผู้นําด้านโซลูชัน Enterprise Mobility Management (EMM) ซึ่งรองรับฟีเจอร์ด้านบริหารจัดการข้อมูลบนอุปกรณ์ Mobile ที่ครอบคลุมทั้ง Mobile Device Management (MDM), Mobile Application Management (MAM), Mobile Content Management (MCM) และ Containment technology ซึ่งครอบคลุมการปกป้องข้อมูลขององค์กรในทุกรูปแบบการใช้งานไม่ว่าจะเป็น เครื่องส่วนตัวที่นำมาใช้ในการทำงานหรือเครื่องที่องค์กรจัดหาให้พนักงานแต่ต้องการควบคุมการใช้งาน
Unified Endpoint Management (UEM) รองรับการทำงานแบบ Multi-platform โดยสนับสนุนทั้ง iOS, Android, Samsung Knox, Android Wear, Windows macOS, Windows และ Blackberry สามารถป้องกันข้อมูลองค์กรไม่ให้รั่วไหล ควบคุมการใช้งานแอพพลิเคชันขององค์การตามนโยบายที่กำหนด รวมถึงรักษาความความเป็นส่วนตัวของผู้ใช้งาน (Personal Data Privacy) การใช้งานสามารถเลือกใช้บริการได้ทั้งแบบ Cloud หรือ On-premise โดยผลิตภัณฑ์ UEM ของ Blackberry ยังได้รับการจัดอันดับให้อยู่ในกลุ่ม Leader บน Gartner Magic Quadrant ปี 2017 (https://us.blackberry.com/enterprise/forms/gartner-emm-mq) และยังได้รับการรีวิวด้วยคะแนนด้านความปลอดภัยสูงสุดจาก Gartner (https://us.blackberry.com/enterprise/forms/gartner-critical-capabilities)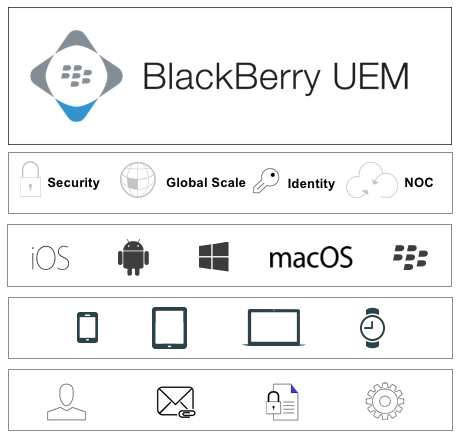 Highlighted Technologies and Solutions :
Enterprise Mobility Management (BMM)
Why choose us
Why Choose Us: Why BlackBerry Secure?
BlackBerry is Securing the Enterprise of Things
BlackBerry is leading the way with a single platform for securing, managing and optimizing how intelligent endpoints are deployed in the enterprise, enabling our customers to stay ahead of the technology curve that will reshape every industry. BlackBerry holds more than 80 security certifications in the industry. Gartner, Inc., the leading provider of research and analysis on the global information technology industry, gave BlackBerry the highest product scores for all six use cases in its Critical Capabilities for High-Security Mobility Management for the second year in a row. The company was also named a Leader in its 2017 Gartner's Magic Quadrant for Enterprise Mobility Management Suites.
ß